Shipping Information
Most orders shipped via UPS generally arrive within 3-5 Business Days unless they are shipped to the west coast which is 5-7 days.
SHIPPING INFORMATION
Currently, we only ship to the United States.
We ship via UPS so please do not use a P.O. Box as a shipping address to avoid delays. We can use UPS SurePost to deliver to P.O. Boxes, but this might cause delays for delivery of your order.
Place your order online and we will ship it out within 48 Hours Monday through Friday! No more worries about last minute gift ideas. We are here to help.
For Example: - If you place your order on Monday before 5 p.m. it will ship Tuesday morning. If your order was placed after 5 p.m. we would see it in our system first thing Tuesday morning and your basket would ship on Wednesday morning.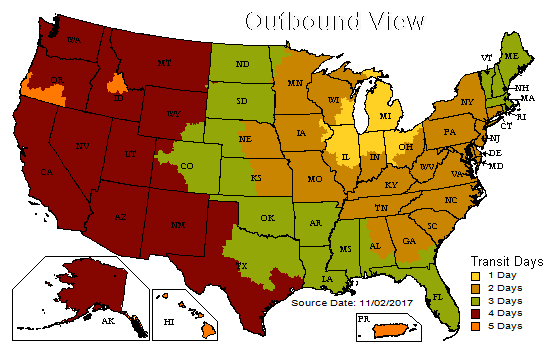 Most orders generally arrive within 3-5 Business Days.
Shipping Chocolate in the Summer
Are you shipping a gift basket containing chocolate? If the temperature is 70 or above where your order is shipping to we suggest that you purchase an Insulated Shipping Box if you are shipping in the 1-2 Day Zones (see map above). If you are shipping outside of the 1-2 Day Zones you must ship your order using UPS 2nd Day Air. Check current temperatures across the United States here.